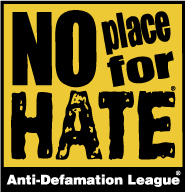 No Place for Hate®
By participating in The No Place for Hate® activities, schools educate their students to foster understanding of many cultures, religions, and traditions that are shared by members of our increasingly diverse and growing community.
Launched in the Santa Barbara Region in 2003, this popular campaign has been embraced by over 100 schools in the tri-counties region. Participants need to complete at least three ADL approved anti-bias activities and document those activities utilizing the appropriate forms.
Further information as well as many creative ideas for completing the program can be found in our Resource Guide. Schools completing the No Place for Hate® Campaign within the allotted timeframe will be recognized publicly at our yearly reception.
To designate your school as building a No Place for Hate® community, take the first step now.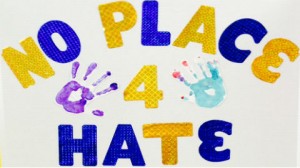 WHAT IS NO PLACE FOR HATE®?
The No Place for Hate® Initiative was created to provide communities with a solid framework for fighting all forms of hate and bigotry. The goal is to empower schools to create and/or implement programs that will actively promote respect for individual and group differences, while encouraging residents to speak out against hate and intolerance.
STEPS TO BECOMING DESIGNATED AS A NO PLACE FOR HATE® SCHOOL:
1. Form a committee to oversee anti-bias activities in your school. Suggested committee members include: school faculty and staff members, administrators, students, parents, community leaders and youth organization leaders. Reach out to student groups for ideas and involvement.
2. Sign the Resolution of Respect. Organize a presentation of the Resolution of Respect to begin the program. This can be done as part of a larger celebration of diversity, during a school assembly or pep rally or through individual classroom projects. Sign the Resolution of Respect in our Resource Guide and display it in your school.
3. Choose and complete, within the year, three or more activities that celebrate diversity and promote respect. Projects should expose young people to other cultures, celebrate diversity and promote respect for differences. Ideally, projects will help young people put current events into historical context, challenge them to think critically and evoke a sense of community. Projects can be tailored to the specific needs of each school and may include programming by ADL s award-winning A WORLD OF DIFFERENCE Institute.
4. Document all steps and activities by submitting the necessary forms to ADL, available on our No Place for Hate® program page. The first step in this process is to complete the School Request for Project Approval Forms and send them to ADL. Once these are approved, a school will officially begin the No Place for Hate® year-long designation process. After each activity has been completed, submit the School Project Fulfillment Form.
Upon completion of all of these requirements your school will be designated a No Place for Hate® Community.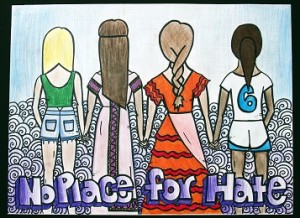 FOR MORE INFORMATION: Call the ADL office at 805.564.6670.
NO PLACE FOR HATE® RESOURCES:
Resource Guide(pdf)
School Project Approval Form (pdf)
School Project Fulfillment Form (pdf)
Who has participated as a No Place for Hate® in the Santa Barbara/Tri-Counties Region