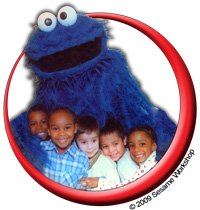 Miller Early Childhood Initiative
The Miller Early Childhood Initiative provides anti-bias training and resources for the early childhood community. The goal of the Initiative is to assist caregivers, educators, and families in creating and sustaining bias-free early childhood programs and homes that encourage children to appreciate diversity at an age when the seeds of prejudice can begin to take root.
To achieve this goal, ADL's trained facilitators deliver workshops to early childhood caregivers, educators, and family members while supporting them with additional print resources to use in early childhood programs and homes.
Watch a video about the Miller Early Childhood Initiative
This video, produced by Media Arts Center San Diego, highlights how educators, caregivers and family members can help create positive environments for young children, encouraging them to develop an appreciation of themselves, as well as an appreciation of people who are physically or culturally different from themselves.
Click here to see what people are saying about the Miller Initiative

Apply for a Workshop
Center-Based Application (pdf)
Host Agency Application (pdf)
To be considered for a workshop, please read the program description carefully and send the completed application to address or fax listed on the form. This application gives us a better understanding of the needs of your program and allows us to adjust the workshops accordingly. All applications will be reviewed and schools will be selected based on a variety of criteria.
Please be assured that we will do our best to accommodate every application but, due to limited funding, a waitlist will be created.
Program Model:
The Miller Early Childhood Initiative consists of a seven hour educator workshop and a three- hour follow up workshop conducted two – three months after the initial program. There is also an option to host a three hour parent workshop.
Educator Workshops:
The initial workshop provides an understanding of the impact of prejudice in an early childhood setting and an introduction to the Initiative resources. A three hour Follow-Up Educator Workshop reunites the participants to reinforce and further develop anti-bias skills. Continuing Education Units and 10 CARES hours are available to the participants upon completion of the follow up workshop. All workshop participants receive Bias-Free Foundations: Activities and Guidebook for Educators.
Family Workshop:
For family members of children ages three-five, the Initiative provides a three-hour workshop which focuses on how parents/guardians are children's "first teachers" when it comes to developing a sense of identity and combating stereotypes and negative attitudes. All participants receive Bias-Free Foundations: Activities for Families.