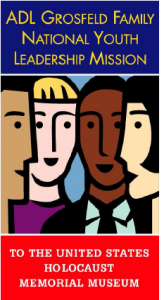 Grosfeld Family National Youth Leadership Mission
For more than 101 years, the Anti-Defamation League has been devoted to fighting all forms of bigotry, and to foster an understanding among diverse communities. Constantly striving to develop creative approaches to these goals, the ADL's Greater Chicago/Upper Midwest Regional Office organized the first Youth Leadership Mission to the U.S. Holocaust Memorial Museum in Washington, D.C. in 1996 as a local program and it was launched as a national program in 1998.
Utilizing the Museum's dramatic portrayal of the events of the Holocaust, this Mission to our nation's capital offers a substantive and effective vehicle for applying the lessons of the Holocaust to modern-day issues of anti-Semitism, bigotry and hate.
Delegations consist of a culturally and religiously diverse group of high school juniors and adult chaperones selected to participate because of their leadership potential, demonstrated interest in Holocaust education as well as diversity, and ability to share the messages of the Mission with others.  These 100 or so students come from across the country.
During the conference in Washington, D.C., delegates participate in ADL's A WORLD OF DIFFERENCE® Institute activities, which are designed to provide an overview of the nature of bigotry and prejudice and to develop a supportive group environment both within and between the various delegations. A centerpiece of the Mission is the tour of the U.S. Holocaust Memorial Museum. Upon completing the tour, participants gather for extensive debriefing sessions and have the opportunity to meet with Holocaust survivors who share their stories of strength and survival.
Participants also meet with other community leaders, ranging from government officials to civil rights legends to trailblazing educators, who offer modern day examples of standing against bigotry.  The Mission culminates with a moving closing ceremony focusing on the role that youth can play in breaking the cycle of hate. Through these and other exercises, participants acknowledge their responsibility to educate themselves and others, and are reminded that they each possess the power — through their actions and behavior — to make a difference in the lives of others.
As part of this program, delegates make a commitment to share their experiences and their new-found knowledge with their families, classmates and other community members.
"This program enables high school students from across the country to bear witness to the unspeakable atrocities of the Holocaust, and to learn how they can apply the moral and ethical issues raised by those dark days to their own lives in terms of standing up to racism, bigotry and hate," said ADL National Director, Abraham H. Foxman.
At our Torch of Liberty Award Dinner on November 22, 2014, three students shared their experiences of how the National Youth Leadership Mission affected them.